Canine Life Skills Classes are for dogs over 6 months of age.  They'll learn the skills they need to be well-mannered dogs.
It also gives your dogs a chance to socialize with other dogs plus it's some 'fun' time for you and your dog to spend together – and it's held undercover!!
The next class start date is Thursday 23rd November 2017.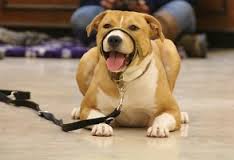 Classes will cover the following:
Loose leash walking
Go to your mat
Targeting – focus and impulse control
Coming when called
Leave it
Greet a person while on lead
Relax on cue
To get the most out of these classes, you should be prepared to practice at home as well as during the classes.
Classes will be held at my premises in Halcombe – only 10 minutes from Bulls, Marton and Feilding and 20 mins from Palmerston North.  They'll be held on Thursday evenings from 6.30pm – 7.30pm and run for 4 weeks. The classes will be small (maximum of 6 dogs) so I can give each dog and owners plenty of attention.
The cost for the four week course is $80.00 per dog and will be held undercover, so no worries about the weather!
Give me a call  on 06 3288799 or 027 5253891 for more information or bookings.