We lead busy lives these days which means our dogs are often left on their own for 8-9 hours a day, 5 days a week.  A lot of dog owners decide to get a second dog – a companion and playmate for their best friend.   And for sure this can be a good thing, but before rushing into it there are a few things to consider which will help ensure that you choose a dog that your existing dog will get along with.
CHOOSE A DOG THAT YOUR EXISTING DOG WILL GET ALONG WITH.
Firstly, think of what you know about your current dogs' personality.   When he's around other dogs, how much will he tolerate?  If another dog wants to play boisterously, will he join in happily, or will he move away and not want to play?   Does he play well with dogs larger or smaller than him?
Secondly think about what your current dog was bred to do.  Is he a sporting breed or a herding dog?  A terrier or scent hound? A toy dog or a fighting dog?
Different breeds have different play styles and some may not mix well together.
Different physical appearances mean some dogs can't communicate as well as others.  Consider a dog whose hair covers its eyes, a very important means of communication amongst dogs.  Or one whose tail has been docked or ears cropped.  This doesn't necessarily mean they won't get on, but you may have to work harder and be more vigilant as they get to know each other.
PREPARING THE HOUSE
Before bringing the new dog home, pick up dog toys and food bowls belonging to the existing dog.  Make sure that each dog will have its own bed, food and water bowls, and toys.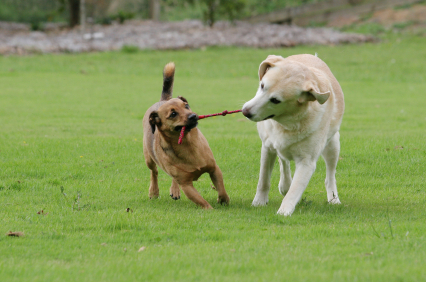 INTRODUCING THE DOGS TO EACH OTHER
When you've found a good match for your current dog, the way they are introduced to each other can be a big influence on their future relationship.
Introducing them for the first time in a large space that neither dog feels is his territory is best.
If your existing dog greets other dogs better when they're both on lead then go with that.  Start with each dog and handler at a reasonable distance from each other and then come gradually together from a side on perspective.  Keep the momentum up and continue walking parallel letting the dogs engage in some mutual sniffing.
If your existing dog prefers to greet dogs off lead and you can find a large fenced space for them to meet in, then this is the way to do it.  Keep them moving, a game of fetch where they each have a ball to retrieve can make a positive association for their first meeting.
BRINGING THEM INTO THE HOUSE
There are a couple of ways of doing this.
You can bring them both in on leash and then separate them with a barrier so that the new dog can explore most of the house or areas of the house that he'll be allowed into.  Your existing dog can watch and interact through the barrier (a baby gate can be useful as the barrier) and then they can be allowed time together for small but slowly increasing times, always supervised.
Or you can continue walking your dog on leash while the new dog is allowed to explore the house on his own.  Then the new dog can be taken out on leash to meet up with the existing dog and then both can be walked home together.  Then allow them time together for small but slowly increasing times under supervision.
It's especially important if you're introducing a puppy to an adult dog that the adult dog gets plenty of time out from the puppy until the puppy becomes less interested and more familiar with the older dog.
LOOK FOR FRIENDLY RELAXED POSTURES IN YOUR DOGS
Things like the play bow, appropriate sniffing and submissive behaviours.
If one dog stares at or stalks the other or doesn't respond to behaviour that shows the other dog is respectful and submissive eg he keeps growling, staring or snapping, then separate them more often.  Encourage calm time with each other by keeping their attention on something else when they are together.
If you handle it well, your existing dog could have a great companion for the times you're not home and as owners – well, you get double the love and joy of living with dogs.